Source: Received a sample copy through work/the Canadian distributor, Thomas Allen & Son.
Publisher: Montlake Romance
Release Date: August 13, 2019
Number of Pages: 266 (Paperback)
DESCRIPTION
Two besties and a baby make for an instafamily and a surprising romance in a delightful series by Melissa Foster, the New York Times bestselling author of the Sugar Lake novels.





Ben Dalton has always been honest, except where his heart is concerned. He's been in love with his best friend—saucy, smart-mouthed Aurelia Stark—forever. But Ben's a planner, and timing has never been on his side. When he finally decides to make his move, Aurelia beats him to the punch with a move of her own—to a different town.





Aurelia loves her new life in the charming town of Harmony Pointe. She has a great apartment and her very own bookstore, and best of all, the sinfully hot, commitment-phobic friend she's crushed on for years is no longer just around the corner. Maybe she'll finally be able to leave her unrequited love behind and move on.





But when a baby is left on Ben's front porch—a baby that is presumably his—Aurelia is there for him. Neither one knows the first thing about babies, but how hard can it be? Ben and Aurelia are catapulted into a world of love, laughter, and tracking down the baby mama, and it might even add up to a very happily ever after… just not one either of them expects.
---
REVIEW
Well this was an absolute delight!
I'm a sucker for books where we get to see sexy dudes doting on kids and CALL HER MINE was perfection when it came to that! Our leading man, Ben, also doted on his leading lady, Aurelia, and I loved him for that, too. Since it's mentioned in the description, I'm not spoiling the fact that there's a baby in this book and she was super duper cute. :)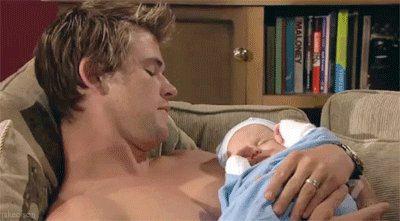 I loved Ben and I loved Aurelia! I absolutely loved them together...and I loved their little family!
I have a lot of favourite tropes, and I tend to read hate-to-love more than friends-to-lovers, and I gravitate toward that more for the snarky banter and the slow-burn chemistry, but CALL HER MINE managed to pull all that off without any sort of hate. Aurelia and Ben are best friends who have both been secretly in love with each other for years...in fact, they've both been thinking that their counterpart doesn't like them romantically so they've been pining away...but a little surprise, in the form of a baby on Ben's doorstep, pushes them to admit their feelings and become an "instafamily" and it was so adorable to read. I loved the teasing banter between Ben and Aurelia, their crazy intense and steamy chemistry, and I loved them with little baby Bea...so many swoony and heartwarming moments! And funny ones, too! I'm definitely going to have to go back to meet the rest of the Daltons now too because Ben's family is fabulous. ;)
Star Rating:
★★★★★
Overall, I absolutely LOVED CALL HER MINE! If you're a fan of friends-to-lovers romances, steamy chemistry, and romances where you see the main characters grow in love and build a family together, then you'll love this one, too. ;)
---
What do you think?
Does CALL HER MINE sound like a book you'd like?
I revealed my love of the single dad/dad trope, so what are some of your favourite romance tropes?