Source: Received an ARC from the publisher.
Publisher: Berkley
Release Date: November 5, 2019
Number of Pages: 352 (Paperback)
DESCRIPTION
The first rule of book club: You don't talk about book club.

Nashville Legends second baseman Gavin Scott's marriage is in major league trouble. He's recently discovered a humiliating secret: his wife Thea has always faked the Big O. When he loses his cool at the revelation, it's the final straw on their already strained relationship. Thea asks for a divorce, and Gavin realizes he's let his pride and fear get the better of him.

Welcome to the Bromance Book Club.

Distraught and desperate, Gavin finds help from an unlikely source: a secret romance book club made up of Nashville's top alpha men. With the help of their current read, a steamy Regency titled Courting the Countess, the guys coach Gavin on saving his marriage. But it'll take a lot more than flowery words and grand gestures for this hapless Romeo to find his inner hero and win back the trust of his wife.
---
REVIEW
First Impressions...
Absolutely LOVED The Bromance Book Club! I loved Thea and I loved Gavin, and I'm definitely excited to see what else the Bromance Book Club is going to get into!!!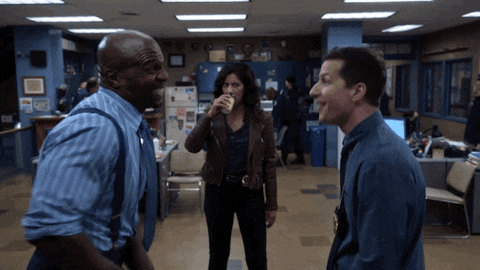 This Book In 5 Words:
Brotastic. Enlightening. Fun. Heartening. Dramatic.
What Did I Like:
- The whole "Bromance" Book Club aspect was amazing! I loved the book club concept and love, love, loved how the guys supported each other and turned to romance books to help them fix their marital issues and better understand their partners! Such a neat idea!
- The amazing way that feminism and equality were handled throughout the story. I absolutely LOVED how much conversation was had throughout this book. I loved that the guys actually talked things out and how they worked together and pushed each other to become better feminists. Honestly, the way the men discussed women's issues and how to better understand their partners, who in this book happened to be women, was absolutely wonderful. Gavin was a bit oblivious sometimes, but he genuinely wanted to learn and his bros totally helped him. I really loved seeing him open up to their help and push himself to understand what went wrong in his relationship with Thea. :)
- The way that Gavin and Thea worked to get to know each other and to heal their relationship. Some of the arguments and drama in this story were a bit ridiculous and not necessarily believable, but I did love that once Gavin and Thea were both committed to trying to heal their relationship that their communication did improve.
- Both Thea and Gavin had some emotional hang-ups in regards to their self-confidence, and I loved that they both accepted each other as they were. They didn't try to fix each other, but instead focused on supporting their partner which was so lovely. :)
What Didn't I Like:
- While I loved this book in general, I did find that while reading I felt like I was distanced from Thea and Gavin, and I didn't quite connect with them as well as I would've liked. I think it was a bit of a combo of the tense that the book was written in and the fact that when this book starts Gavin and Thea are already in a relationship, so we kind of missed the whole beginning of their story.
Star Rating:
★★★★.5
Overall, I loved
THE BROMANCE BOOK CLUB!
I loved the whole idea of the book club full of guys reading romance books in order to better understand women, and the execution of the club was even better than I'd hoped for! I really enjoyed Thea and Gavin's story despite feeling a bit distanced from them, and I'm definitely looking forward to seeing what happens with our favourite bros and book club in future books! ;)
---

What do you think?
Does THE BROMANCE BOOK CLUB sound like a book you'd enjoy?