I have something super exciting to share with you all today...it's the cover for Genevieve Graham's next book, AT THE MOUNTAIN'S EDGE, and I also have the link to her fabulous new website!!!
Without further ado, here's the gorgeous cover! Let us know what you think!!! :D
.
.
AT THE MOUNTAIN'S EDGE by Genevieve Graham

Release Date: April 2, 2019

Publisher: Simon & Schuster

SYNOPSIS

From bestselling author Genevieve Graham comes a sweeping new historical novel of love, tragedy, and redemption set during the height of the Klondike Gold Rush.




In 1897, the discovery of gold in the desolate reaches of the Yukon has the world abuzz with excitement, and thousands of prospectors swarm to the north seeking riches the likes of which have never been seen before.




For Liza Peterson and her family, the gold rush is a chance for them to make a fortune by moving their general store business from Vancouver to Dawson City, the only established town in the Yukon. For Constable Ben Turner, a recent recruit of the North-West Mounted Police, upholding the law in a place overrun with guns, liquor, prostitutes, and thieves is an opportunity to escape a dark past and become the man of integrity he has always wanted to be. But the long, difficult journey over icy mountain passes and whitewater rapids is much more treacherous than Liza or Ben imagined, and neither is completely prepared for the forbidding north.




As Liza's family nears the mountain's peak, a catastrophe strikes with fatal consequences, and not even the NWMP can help. Alone and desperate, Liza finally reaches Dawson City, only to find herself in a different kind of peril. Meanwhile, Ben, wracked with guilt over the accident on the trail, sees the chance to make things right. But just as love begins to grow, new dangers arise, threatening to separate the couple forever.




Inspired by history as rich as the Klondike's gold, At the Mountain's Edge is an epic tale of romance and adventure about two people who must let go of the past not only to be together, but also to survive.

PRE-ORDER YOUR COPY NOW!



---
Her website has been totally redone and as time passes, she plans to add more and more to the "Beyond the Books" page! So far it already has some deleted chapters from her books, but she plans for it include historical information and such, so it's sure to be something extremely fun for historical fiction fans!

Genevieve Graham graduated from the University of Toronto in 1986 with a degree in music, never planning to write books. She met the love of her life in a chairlift lineup in Banff and subsequently moved to Calgary where the couple lived for 17 years and raised two beautiful daughters. She began writing in 2007, just before the family moved to Nova Scotia. Her first three novels, Under the Same Sky, Sound of the Heart, and Somewhere to Dream, were international bestsellers published by Penguin US. Graham is passionate about historical adventure, runs an editing business, teaches piano, and raises very silly chickens. She lives just outside Halifax, Nova Scotia.

Connect with Genevieve:

Goodreads

|

Twitter

|

Instagram

|

Facebook

|

Website
---
Finally, I'll leave you with this wonderful gif for AT THE MOUNTAIN'S EDGE!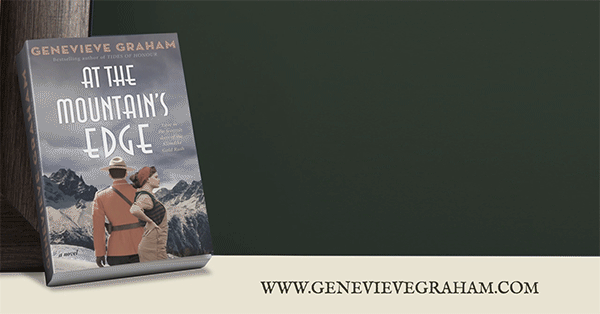 I don't know about you all...but I can't wait to get my hands on this book! The cover is stunning, and the description has me super excited to see what Genevieve has come up with! ;)
Who else loves Genevieve's new website and can't wait to read AT THE MOUNTAIN'S EDGE?