Source: Egalley through work/Canadian distributor, Thomas Allen & Son.
Publisher: Montlake Romance
Release Date: January 28, 2020
Number of Pages: 302 (Paperback)
DESCRIPTION
From the New York Times bestselling author of Pucked and A Lie for a Lie, a new stand-alone romance about trading favors, battling wills, and winning love.

When I joined Seattle's NHL expansion team, I thought it was the start of something great. But nothing ever goes the way you expect. Take my introduction to my new neighbor. She came rolling in on the hot mess express at midnight, making a racket while she tried to get into my team captain's apartment. Did I mention that he's married to a woman who definitely was not her?

Imagine my surprise when I end up with an injury that has me out of the game for weeks, and she's the one to offer to help me. I should probably add that she's not the captain's mistress. She's his sexy, pastel-haired younger sister.

So we come up with an arrangement: she rehabs me so that I can get back on the ice sooner, and she can add a professional athlete that isn't her brother to her client list. Seems simple enough. As long as I can keep my hands to myself and my hormones in check.
G E T Y O U R C O P Y N O W !
Amazon US
|
Amazon Canada
|
Indigo
---
REVIEW
First Impressions...
Wow! I thought A FAVOR FOR A FAVOR was amazing! I absolutely loved Bishop and Stevie! I loved the way that their relationship developed, all of the crazy intense chemistry, and every single moment between them! They were wonderful! I also loved seeing more of RJ and Lainey and some of our favourite Pucked characters. ;) I've been a bigtime Helena Hunting fan for a while now, but this is quickly becoming my favourite series of hers so far!!!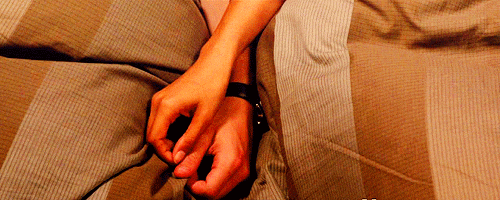 This Book In 5 Words:
Sexy. Funny. Hilarious. Adorable. Exceptional.
As I mentioned, I loved
A FAVOR FOR A FAVOR
! I thought that Bishop and Stevie were wonderful! Bishop was surly, broody, and so awkward at times, but it was in the most endearing of way. He was also so freaking sweet...and genuinely tried so hard and I really just loved seeing him do his best to support Stevie...it was so sweet! Stevie, on the other hand, was a lot less awkward and definitely not broody. She was sassy, strong, and determined to make her own way. I loved that she was contradictory in many ways, but always managed to stay true to herself. :)
Stevie and Bishop were fantastic apart, but they were even better together and their romance was amazing! It was definitely a slow-burn...but boy was it worth it. I loved how their connection grew even before their romantic relationship ever started. I also loved the animosity between Stevie and Bishop at the start...I wouldn't call it hate, but there was definitely some fiery reactions going (their morning battles were hilarious...and I totally loved all of Bishop's "wardrobe choices" :P). It was clear right from the start that they had some intense chemistry! Once feelings started and things were underway...well bam! Their chemistry was phenomenal and I really loved how compatible they were...I'm honestly super excited just to get to see more of them in the next book now that they're together!!! :D
I highly recommend this one to anyone who loves slow-burn romances, especially if you love sport romances, broody, well-meaning heroes, and sassy, strong heroines!
Star Rating:
★★★★★
Overall, I loved
A FAVOR FOR A FAVOR
! I thought that the characters were wonderful, the romance was a fantastically sexy and well-developed slow-burn, and the story and side-characters were wonderful--I couldn't put it down! I absolutely ADORED the first book in Helena Hunting's
All In
series,
A LIE FOR A LIE
, and I loved this one, so I am ridiculously excited for the third book now,
A SECRET FOR A SECRET
! RJ and Bishop are amazing...and I just can't wait to see how amazing King is, too! ;D
---
What do you think?
Does
A FAVOR FOR A FAVOR
sound like a book you'd like?
Have you read any of Helena's books yet?