Source: Received an egalley through Edelweiss.
Publisher: Berkley
Release Date: June 11, 2019
Number of Pages: 320 (Paperback)
DESCRIPTION
Can a romcom-obssessed romantic finally experience the meet-cute she always dreamed of or will reality never compare to fiction, in this charming debut adult novel from Kerry Winfrey.

Annie is twenty-seven years old, single, and obsessed with romantic comedies (she and her mother watched them religiously, before her mom died). Her dating life is limited by the expectations she's formed from these movies. She is not as open to new experiences as she might be, because she's waiting for her Tom Hanks–i.e., a guy she'll find in the perfect, meet-cute romantic comedy way. When Annie does finally meet her perfect match, it's not quite in the way she expected, and she's forced to reckon with the walls she's built around herself over the years.
G E T Y O U R C O P Y N O W !
Amazon US
|
Amazon Canada
|
Indigo
|
B&N
---
REVIEW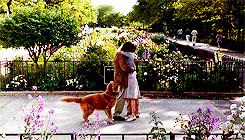 First impressions...
Gah!!!! This was absolutely adorable! I'm pretty much rom-com obsessed so I definitely related to Annie's love of them and to her quest in finding her own "Tom Hanks." I loved all of the homages to classic rom-comes and I absolutely adored Drew and Annie!!! So cute!!! Highly recommend this to anyone who also loves rom-coms!
This Book In 5 Words:
Adorable. Funny. Relatable. Heartwarming. Sweet.
What Did I Like:
- All of the references to Tom Hanks and rom-coms. I'm a rom-com diehard myself, and I don't think I've ever related to a character more fully than I did to Annie in regards to her love of all things rom-com.
- The characters. While Annie was a bit dramatic and naive at times, I loved her passion and how much she loved rom-coms, and Drew was a major dreamboat. He was extremely sexy...but the more we saw of him, the easier it was to see how down-to-earth he actually was and I grew to love him more and more. Annie's friends, Chloe and Nick, were also amazing and I can't wait to get their story next! ;)
- The romance and the story. I loved how Drew and Annie's romance built! It followed some typical rom-com tropes but I thought it was in a really wonderful way--I really loved the little nods to the genre and thoroughly enjoyed every minute of it! I could not put this book down and I really didn't want to!
What Didn't I Like:
- Honestly, there wasn't really anything big. I gave this one 5 stars because I loved it! :P I wouldn't have minded some more steam, but the level that was in the story fit the characters and the sweeter tones of the story. The only thing that I can think of is that I maybe would've liked at least one chapter from Drew's POV--I loved Annie, but I would've loved to see what was going on in Drew's head, too. Maybe we'll get lucky and Kerry will share an extra scene at one point where we get to see inside of his POV. :)
Star Rating:
★★★★★
Read If You Like:
- Rom-coms (especially of the Nora Ephron variety and/or starring Tom Hanks)---this book is definitely meant to be an homage to rom-coms, so if you don't enjoy that kind of story, this one might not be for you.
- Heartwarming stories with hunky, but semi-dorky heroes, and heroines that are romance fiends just like we are. ;)
To Read Next:
-
Passion on Park Avenue
by Lauren Layne
-
Meet Cute
by Helena Hunting
Overall, I absolutely loved
WAITING FOR TOM HANKS
! I was hoping for a feel-good rom-com just like my all-time fave movies,
You've Got Mail
and
Sweet Home Alabama
, and that's exactly what I got! I already can't wait to read this one again, and I'm looking forward to what Kerry Winfrey writes next!
---
What do you think?
Does
WAITING FOR TOM HANKS
sound like a book you'd like?
Who else absolutely loves rom-coms?