Source: Received a copy in exchange for a honest review. Also purchased a finished kindle copy.
Release Date: May 2, 2019
Number of Pages: 267 (ebook)
DESCRIPTION

If you're having fun living your bachelor life in your Alaskan hometown and out of nowhere a woman shows up holding a baby she insists is yours, you need a plan-a birth plan.

BP Step #1 - Lift your jaw off the floor.

BP Step #2 - Figure out the baby's age-do the math.

BP Step #3 - Try to remember the woman and with any luck, her name.

BP Step #4 - Double check that she's not confusing you with your twin brother.

BP Step #5 - Ignore your five sister's scowls as your entire family watches the drama unfold.

There's only one thing you shouldn't do.

BP Step #6 - Don't assume she's there because she wants your daughter to call you Daddy. You'll only end up disappointed.

Time to figure out a new plan-one that changes her mind.

G E T Y O U R C O P Y N O W !
Amazon US | Amazon Canada
---
REVIEW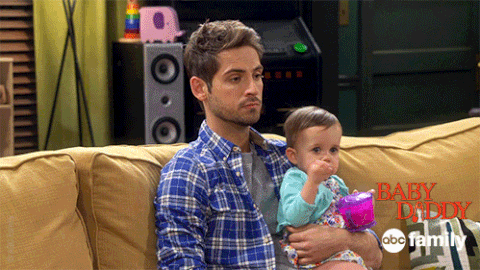 I've never seen this show...but this GIF is so perfect for this book! haha
Initial Reaction:
Absolutely looooved this one!!! The couple was fabulous! I loved Harley and I loved getting to know the Baileys even better...especially our mystery baby daddy! 😉
This Book In 5 Words:
Surprising. Flirty. Delicious. Tender. Daddylicious.
What Did I Like:
- The characters! One of my favourite things about Piper and Rayne's books will always be their characters! They put you completely in their characters' heads and really bring them to life! Harley and our baby daddy were fabulous!!! They were flawed and had some issues to overcome, but seeing them rise to the task was wonderful! And seeing them together...well that was even better! :D
- All the daddy moments! Romance has taught me several things about myself, and one of those things is that I am an absolute sucker for moments in books where we get to see our heroes being good dads...and this one did it very, very well! Seeing our mystery baby daddy grow into his role within his new family was soooo wonderful, and he was such a good dad! I can't wait to see more of those dad moments in later books!
- The entire Bailey family! I seriously love this family so much, and with each book I'm getting more and more attached! I can't wait for each and every one of their stories, and I also can't wait to see Grandma Dory continue to meddle in all of their lives. :P
What Didn't I Like:
- I wanted more scenes with our mystery daddy interacting with his siblings. We did get some scenes, but that was the one part of the story that I wanted more of...so really, I just wanted more of this story, which frankly isn't really a bad thing. :P
Star Rating:
★★★★★
Read If You Like:
Stories of redemption, finding love in unexpected places, second chances, and stories where both the hero and heroine have flaws, but they grow together and overcome the things that are holding them back!
To Read Next:
-
Meet Cute
by Helena Hunting (If you like the whole single guy suddenly becomes thrust into a father/father-like position, then you will LOVE Dax...I know, I sure did! ;D)
-
Single Dads Club Series
by Piper Rayne (Once again...I'll have to recommend this one! I totally blame it for my love of the single dad trope now! :P)
Overall, I thought that
BIRTH OF A BABY DADDY
was wonderful! I loved this story! I loved the characters, and I'm absolutely loving this entire series! Wholeheartedly looking forward to the next one! :D
---
ABOUT THE AUTHORS:

Piper Rayne, or Piper and Rayne, whichever you prefer because we're not one author, we're two. Yep, you get two USA Today Bestselling authors for the price of one. Our goal is to bring you romance stories that have "Heartwarming Humor With a Side of Sizzle" (okay...you caught us, that's our tagline). A little about us... We both have kindle's full of one-clickable books. We're both married to husbands who drive us to drink. We're both chauffeurs to our kids. Most of all, we love hot heroes and quirky heroines that make us laugh, and we hope you do, too.



Connect with Piper Rayne:
---
What do you think?
Does
BIRTH OF A BABY DADDY
sound like a book you'd like?
Anyone else bigtime Piper Rayne fangirls? :P