Source: Purchased a copy.
Release Date: March 21, 2019
Number of Pages: 337 (ebook)
DESCRIPTION

What's a girl to do after being ditched at the altar by text message? That's right. Text. Message.

How does she pick up the pieces and move on? I'm no Dear Abby but here's a little free advice…

Advice #1 – First, purge your apartment of all things him—by tossing his belongings off the balcony.

Advice #2 – Do not, I repeat do not, throw anything out into the hallway because you'll injure your hot new neighbor.

Advice #3 – When said neighbor brings over Chinese Food do not let him stay and keep you company. It's awkward when you realize he's your boss.

Advice #4 – Accept his offer to help you with your side business but think twice before using a date to his sister's wedding as collateral.

Advice #5 – Investigate who your mystery neighbor really is. Don't trust his word even if he's the world's best kisser.

If you listen to nothing else, pay attention to that last one. It's the most important and will save you a lot of heartache.

Xo,
LOVESICK IN LAKE STARLIGHT

G E T Y O U R C O P Y N O W !
Amazon US | Amazon Canada
---
REVIEW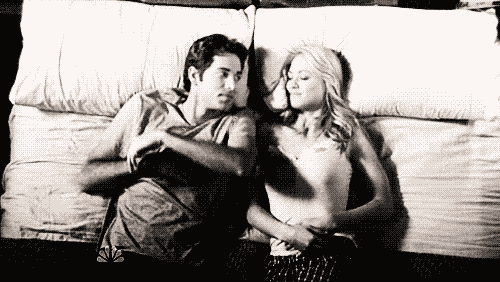 Initial Reaction
I loooooved Brooklyn & Wyatt soooo much! This was the perfect slow burn, and I loved seeing Brooklyn and Wyatt go from strangers...to friends...to lovers! Sooooo good!!! :D Loving how this series is going and I'm really looking forward to seeing all of the siblings get their own story!
This Book In 5 Words:
Adorable. Funny. Heartwarming. Sexy. Tantalizing.
What Did I Like:
- The characters. I loved Wyatt and Brooklyn so much! They were both wonderful characters, and I was rooting for them!
- The family dynamics. I am loving seeing all of the Bailey siblings find love...and I'm loving the antics of the entire town of Lake Starlight!
- The story and the drama. I loved how this story built so much, and there was so much drama! I'm not always a fan of drama, but it really worked for me here. It was super fun, and none of the drama was cruel...it just worked so well!
- The tropes. Oh boy! This love story went from strangers to friends to lovers...and it was PERFECT! I need to find me a guy like Wyatt...not sure if I'm prepared to be jilted at the altar to find him, but am willing to try. ;P
What Didn't I Like:
- Honestly...nothing. I thought this was simply a perfect, sweet love story!
Star Rating:
★★★★★
Read If You Like:
Lighthearted romances that will leave you grinning and giggling! While these books are a bit dramatic, they always have the sweetest endings! This series is also perfect for anyone who loves companion series where you get to see all of your fave couples again...it's following nine siblings as they all find love, so we'll get to see our faves for a while still! ;)
To Read Next:
-
Single Dads Club Series
by Piper Rayne (I was first introduced to Piper and Rayne through the second book in this series,
Dirty Talker
, and I still wholeheartedly ADORE this series...and all of their other books...HIGHLY RECOMMEND!)
-
Hooking Up (Shacking Up, #2)
by Helena Hunting (If you like seeing a spurned bride find new love with a SUPER sexy guy, then you will love Amalie and Lex! ;D)
Overall, I absolutely loved
ADVICE FROM A JILTED BRIDE
! The characters were fabulous, and I couldn't put this one down once I started it! :D
---
ABOUT THE AUTHORS:

Piper Rayne, or Piper and Rayne, whichever you prefer because we're not one author, we're two. Yep, you get two USA Today Bestselling authors for the price of one. Our goal is to bring you romance stories that have "Heartwarming Humor With a Side of Sizzle" (okay...you caught us, that's our tagline). A little about us... We both have kindle's full of one-clickable books. We're both married to husbands who drive us to drink. We're both chauffeurs to our kids. Most of all, we love hot heroes and quirky heroines that make us laugh, and we hope you do, too.



Connect with Piper Rayne:
---
What do you think?
Does this sound like a romance you'd like?