DIRTY FLIRTY ENEMY
WHITE COLLAR BROTHERS, #2
Source: Received an egalley to give an honest reviews. Also purchased finished Kindle copy.
Release Date: July 16, 2019
Number of Pages: 284 (Kindle Edition)
DESCRIPTION
He's the arrogant Manhattan realtor with billboards advertising his six-pack more than his expertise in negotiations.

I'm the competing broker who stupidly moved across the hall from his office.

From day one, I've been his sworn enemy. Okay, so I might have accidentally stolen one of his clients. Well, is it stealing if the client comes to me?

Even our vicious banter and loathing gazes can't hide the chemistry between us. Who can blame me? He has enough charisma to make every hot-blooded woman in the city melt with a single word.

Just when I think a mutual respect could be born between us, the biggest developer in the city offers us an opportunity that pits us against each other.

Time to forget Carmelo Mancini's dreamy eyes and tight abs.

Game on.
GET YOUR COPY NOW!
---
ABOUT THE AUTHORS:

Piper Rayne, or Piper and Rayne, whichever you prefer because we're not one author, we're two. Yep, you get two USA Today Bestselling authors for the price of one. Our goal is to bring you romance stories that have "Heartwarming Humor With a Side of Sizzle" (okay...you caught us, that's our tagline). A little about us... We both have kindle's full of one-clickable books. We're both married to husbands who drive us to drink. We're both chauffeurs to our kids. Most of all, we love hot heroes and quirky heroines that make us laugh, and we hope you do, too.



Connect with Piper Rayne:
---
REVIEW
First Impressions...
Well! The first book in the White Collar Brothers series was amazing, and so was this one!!! One of the things I love most about Piper and Rayne is the fact that their series continue to deliver. The sequels are usually just as good (or sometimes even better!) than the first ones, and DIRTY FLIRTY ENEMY was fantastic! Carm and Bella were absolutely amazing and their enemies-to-lovers slowburn was sooooo good! It was just the summer romance that I wanted!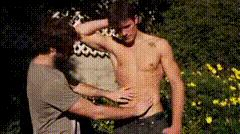 This is how I imagine Bella reacted to Carm's billboards. haha
This Book In 5 Words:
Sexy. Dynamic. Funny. Sassy. Flirty.
What Did I Like:
- The characters! I absolutely loved Carm and Bella! Right from the start she was sassy and stood up for herself, and Carm was charismatic, undeniably sexy,...and when he wasn't being a snarky little brother and doting son, he was a bit of an egotistical douche...but it didn't take long to see a better side of him, and boy was that side sweet and absolutely wonderful!
- The romance! I absolutely loved seeing Carm and Bella's relationship grow! The slowburn was perfect, the drama was delicious, and the way that their relationship evolved was so satisfying! I loved every minute of it!
- The group dynamics! I'm always a fan of how Piper and Rayne weave their side characters into their stories, and
DIRTY FLIRTY ENEMY
had that, too! I loved seeing Carm's brothers and all of the friend dynamics, too...I'm expecting to love seeing even more of this in Dom's story,
WILD STEAMY HOOK-UP
, next!
- The writing and the setting! The writing was as fabulous as usual, and the setting this time around was a lot of fun! Don't want to spoil it, so I'll just say that if it wasn't already summer, then this would be the perfect book to make me get into a summery mood! :D
What Didn't I Like:
- Nothing! While it didn't pack quite as an empowering punch as the previous book,
SEXY FILTHY BOSS
, it was still a wonderful, steamy and romantic read that I thoroughly enjoyed! :)
Star Rating:
★★★★★
Read If You Like:
- Sexy rom-coms with sizzle, heart, and some wonderful friend and family dynamics!
Overall, I loved
DIRTY FLIRTY ENEMY
! It was super sexy, fun, and packed full of Piper Rayne goodness!!! If you haven't checked out one of their books yet, then I really, really urge you too! If you like sexy rom-coms that sweep you into the story, then seriously, you'll love them! :D
---
What do you think?
Does
DIRTY FLIRTY ENEMY
sound like a romance you'd enjoy?